This post was sponsored by CLEAR CARE® PLUS as part of an Influencer Activation for Influence Central. I am disclosing this in accordance with the Federal Trade Commission (FTC) guidelines concerning the use of endorsements and testimonials in advertising. I received financial compensation for my participation and endorsement.
When Melody was born, a huge shift in our tiny home came with it. We remodeled our floors and began to make room for our little girl. Dad's office became JP's bedroom and JP's old bedroom became the new nursery. At that particular time my only interest was getting the nursery finished and prepare for life with a newborn. With all my money spent on cribs, changing tables and new floors, I didn't have the budget to improve his room… Until recently!
When the room transformed from dad's office to JP's bedroom, the only new thing that happened in that room was a fresh coat of paint. I simply moved the same furniture he got from his first bedroom upgrade from his toddler room and settled him in his new space. This was how I upgraded the room back in March 2012.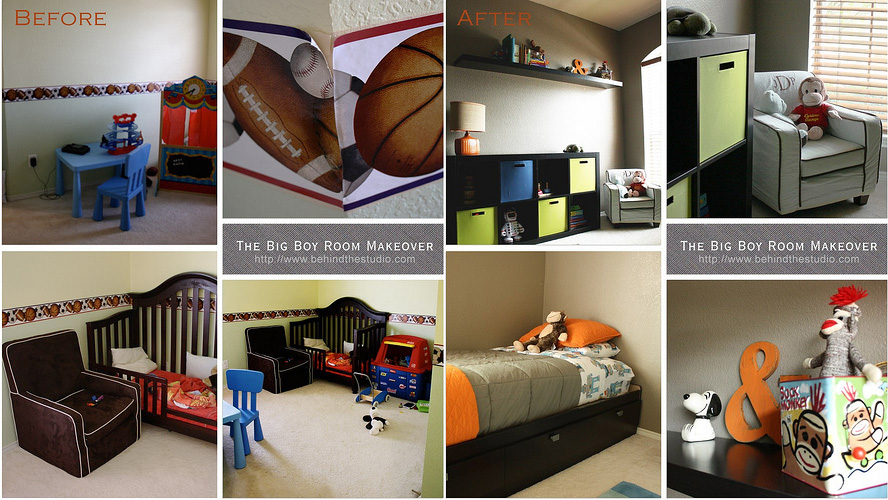 I basically just shuffled that twin bed & bookcase over to the next room so I could begin preparing Melody's new space. We upgraded again! This is what JP's old room looks like now.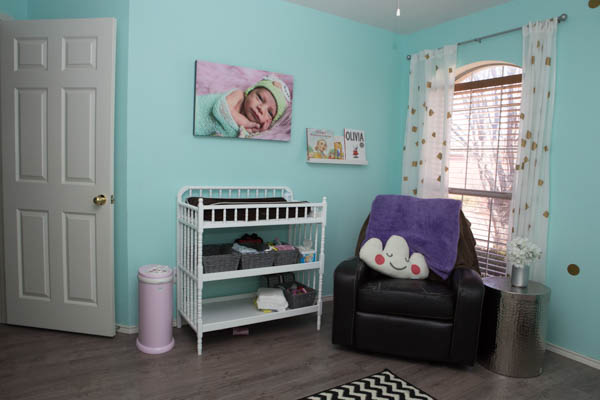 And now finally JP got an upgrade too… His room is not 100% complete yet, so there's no styled photos yet – I am still deliberating on bedding since I now need both a queen and a twin set of sheets. Typically JP likes to play up in the top bunk, but he sleeps on the lower one. This setup works perfectly for us because so my family can easily stay and visit for as long as they like and be comfortable. Plus JP thinks it's great that he has a top bunk to play in! One of the first things he learned was building a tent by draping a blanket off the top bunk.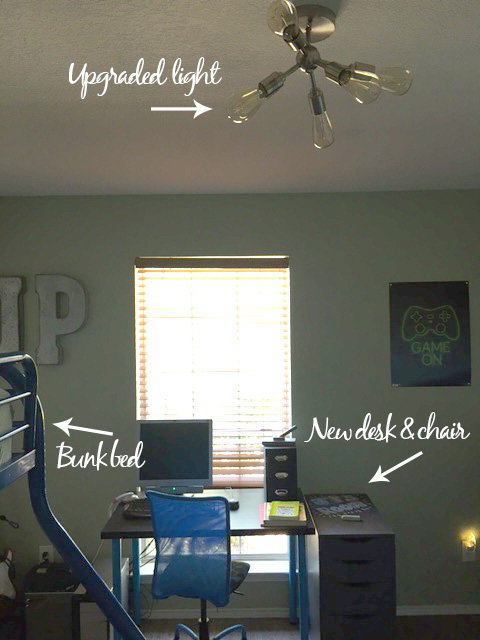 I also upgraded the light because the light we had just didn't illuminate the room well. This It works beautifully at 6am when it's time to wake your kid for school! 🙂
I also had to get him a dresser because his old dresser was the 3 pull out drawers on his old twin bed. Sadly as much as I loved how that bed looked, it was beginning to fall apart and becoming a safety concern.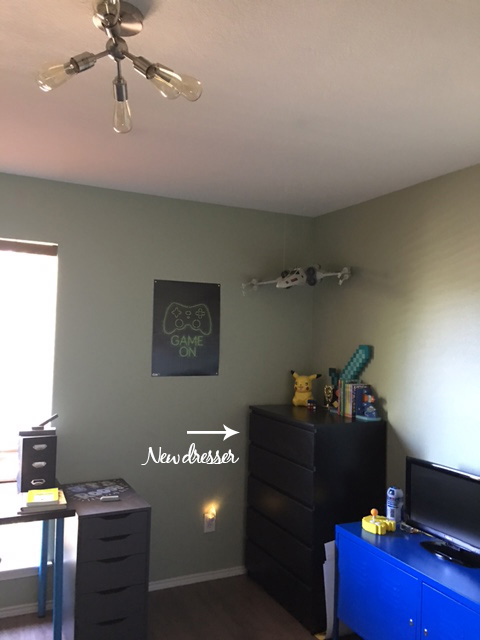 …And a chalkboard top on the chest of drawers….
However, I didn't start out with this idea in mind. I was playing with the idea of using the set of drawers as a base on the right side of the desk to help support it. In the assembly instructions, it tells you to place the little plastic adhesive dots in each corner to act as grips protect the surface from scratches when the desk is leaning on it. I did that and from there I decided I did not want to use it as a base for the desk anymore. I began to peel away the plastic dots, trying to remove them as carefully as I could, but they wouldn't budge. Then the worst happened and it removed some of the grey finish along with the dot. @$#%!
So I thought.. How can I fix this? I immediately thought of the chalk paint I had stashed away for a different project. It turned out this paint was a perfect match for the table and it adds some fun to his space as well!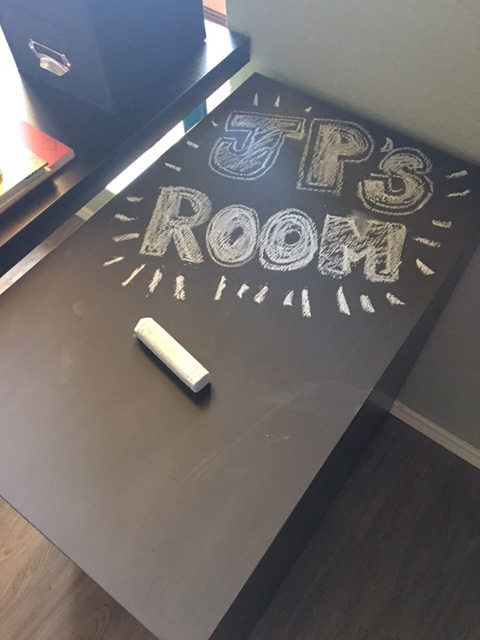 So what's do you dream of upgrading? Check out the sweepstakes that CLEARCARE® PLUS now is having and you could win your chance to upgrade something of your own. Simply enter in the Bubble Upgrade™ Sweepstakes and you could win an upgrade experience valued at over $10,000! From now through September 6th, one winner will be selected every Wednesday to win their very own $10,000 upgrade of their choice. What would you upgrade?
**Contest Rules**
No purchase necessary. Must be at least 18 and a resident of the 48 contiguous U.S. or D.C. Ends 9/6/16. Void where prohibited. Subject to complete Official Rules. BubbleUpgrade.com/rules