This post brought to you by Duck Brand. All opinions are 100% mine.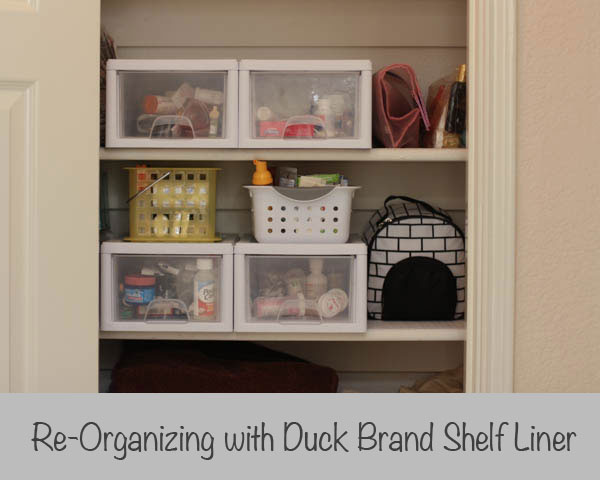 One of my favorite organizing supplies has got to be shelf liners – have you ever tried using them? I swear by them because it adds a fresh surface inside your cabinets or pantries that protects the shelf beneath them. I have been using these inside my kitchen cabinets and pantry for years, and now I've decided to use them in the linen closet and under the bathroom / kitchen sink.
Our linen closet also doubles as a place for medications because it's high up and out of the reach of JP. When we first moved into our house, he was barely 18 months old so we decided that would be a great place for things that say "Keep out of reach of children" on the label.
So… After about 4 years worth of "living" and not much maintenance, the medicine closet as we call it got a little messy…  Yikes!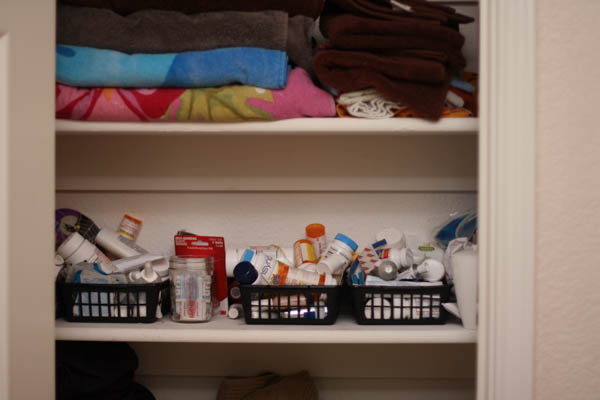 When I started to clear everything out to re-organize, I thought it would be best to use Duck Brand's Shelf Liner to help keep my shelves protected, and also allow for a nice clean surface to place our family's medications on.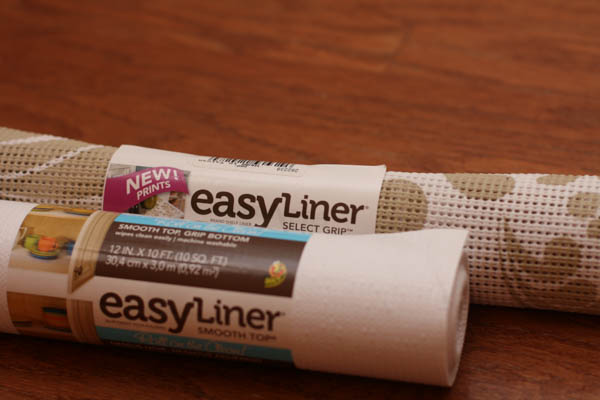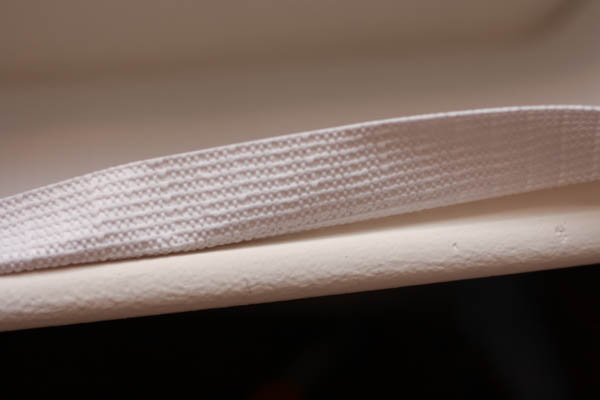 It was really easy to roll out and measure the correct size by holding the edge of the liner against the back of the shelf and trimming off the excess with scissors. I fitted 2 of my closet shelfs with the white liner using this method. I think I like the patterened one better for under the kitchen sink.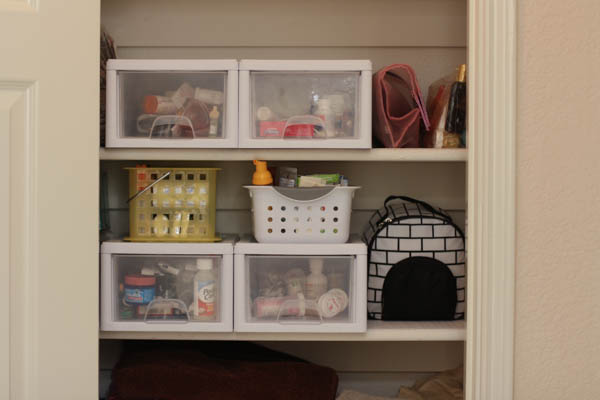 Once I got these down and placed, I added a little double sided tape on the bottom so it would help keep it in place without bunching up. I got some better organizer drawers, and divided up the meds into children's meds, cold meds, allergy meds and pain & prescription misc meds with a first aid kit on the top to remedy a boo boo when it comes my way. And there's still plenty of room for JP's nebulizer and other knicknacks like travel sized soaps and shampoos. I love that everything has a place now, and it's not a miserable search when you need to find something in a hurry.
What kind of organizing project will you embark on with Duck Brand's Shelf Liner? I'd love to hear some creative ideas!
Be sure to follow Duck Brand on both Facebook and Pinterest for more great ideas!