A big thank you to Petit Jean Meats for providing the ingredients to make this fine dish!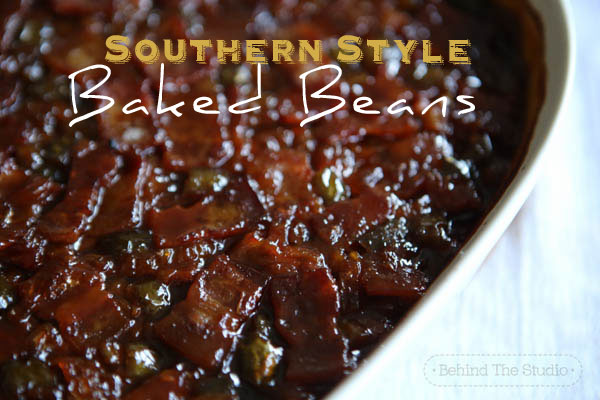 Summer grilling season has to be about my favorite time of year because in our house, the kitchen moves outside for a few months. After being inside all winter, its refreshing to be outside working the grill while I watch JP play on his swing set! Our summer dinners are filled with grilled meats, veggies and mouthwatering sides that can be prepared for indoor cooking. Whenever we have company and grill out, I love to make my southern style baked beans to accompany our main course because its full of flavor and insanely easy to make.
I received a big goody box filled wit bacon & sausages courtesy of one of my favorite meat manufacturers – Petit Jean Meats. Known for a quality that's a cut above the rest makes it one of my favorite meats to use in my recipes. Southern Style Baked Beans just seemed perfect to use my PJM bacon with! They generously sent me 3 packages – 2 classic thick cut slabs and one Dallas cowboy brand.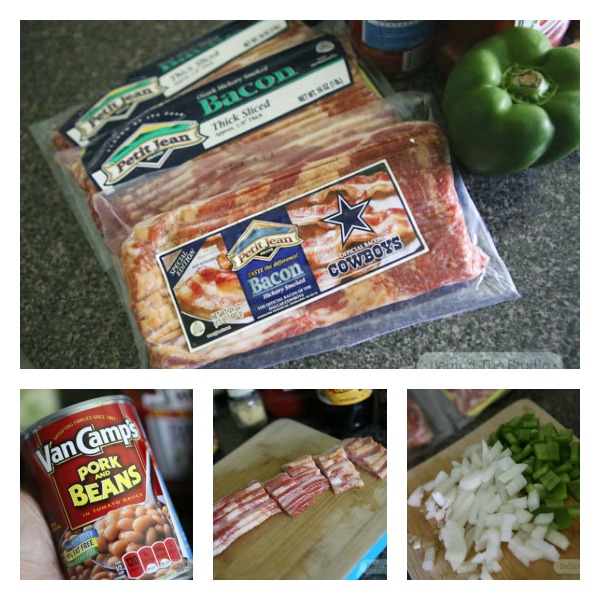 Here's what you'll need:
Prep time: 20 min Cook time: 1h 30min Yield: 6-8 servings
2 cans of pork n beans
5 or 6 strips of uncooked bacon
1 small onion, diced
1 finely chopped green bell pepper
1 clove of garlic finely chopped
1 1/2 teaspoons Worcestershire sauce
1 teaspoon dry mustard
1/2 cup firmly packed brown sugar
1/2 cup ketchup
1/2 cup molasses
Star by cutting up the pepper and the onions and set them aside. Cut the bacon strips into small bite-size pieces and throw them in a hot skillet to cook. Cook them until they have some color and are rubbery in texture.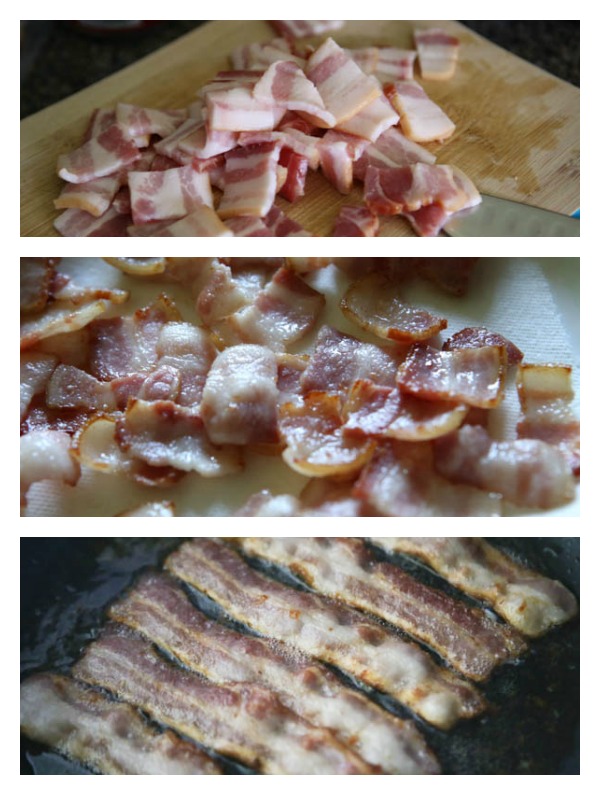 I couldn't resist cooking up some full bacon strips too because they go great beef sliders!
Once you are done cooking the bacon, don't drain that fat just yet!! This is where I add my diced onions, bell peppers and garlic to the hot fat and cook them up (about 2 min) before I simmer them with the beans. When they are done, scoop them out and drain them.
In a bowl, combine the 2 cans of pork and beans, the sauteed veggies, brown sugar, molasses, ketchup, mustard and Worcestershire sauce. Once it is well mixed up together, I smoothed it out into a baking dish and topped it off with my bits of bacon.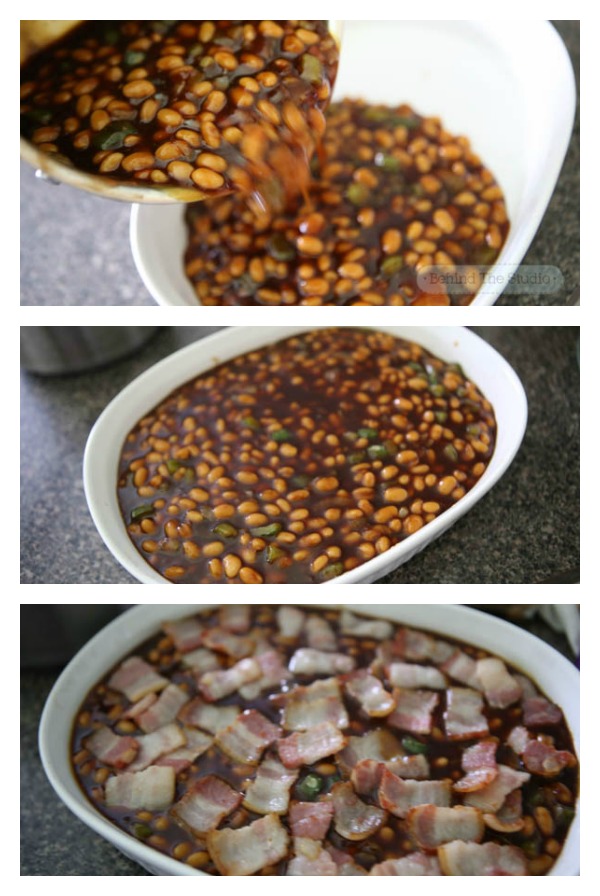 Bake for about 1 hour at 325F. You will not be sorry!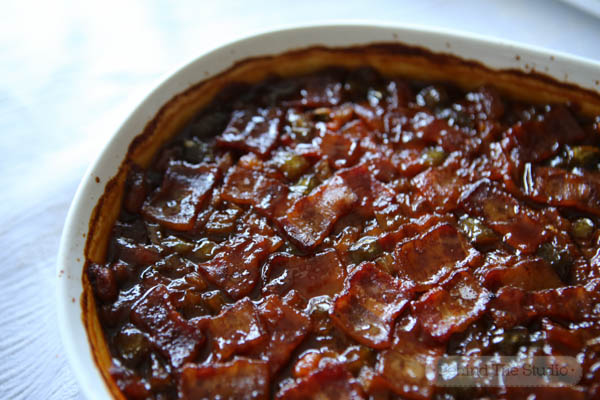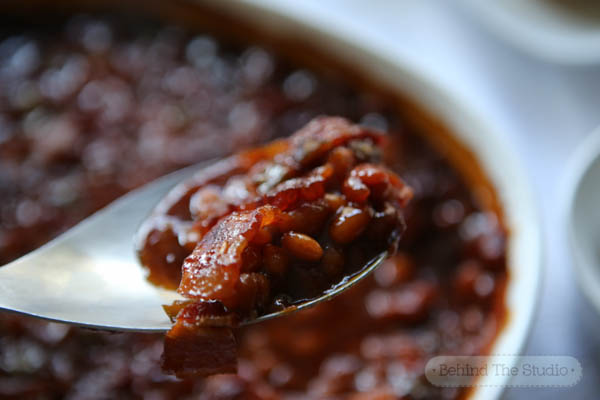 Can't forget about the other goodies from Petit Jean Meats – we grilled some sausages, old fashioned  hot dogs and some bacon & cheese beef sliders.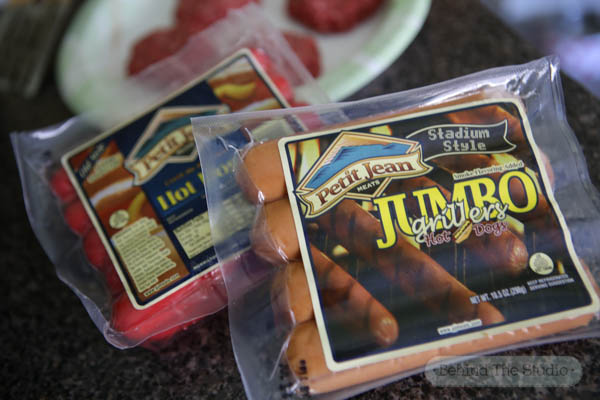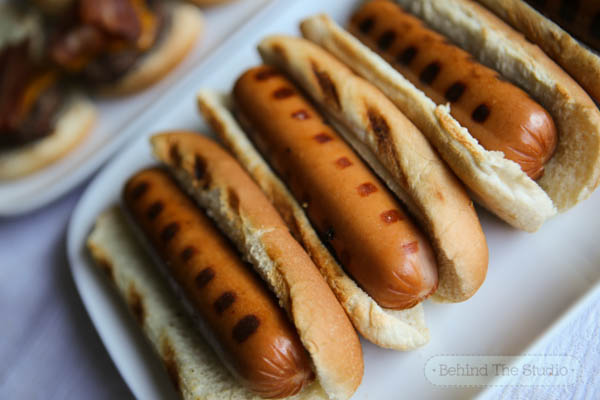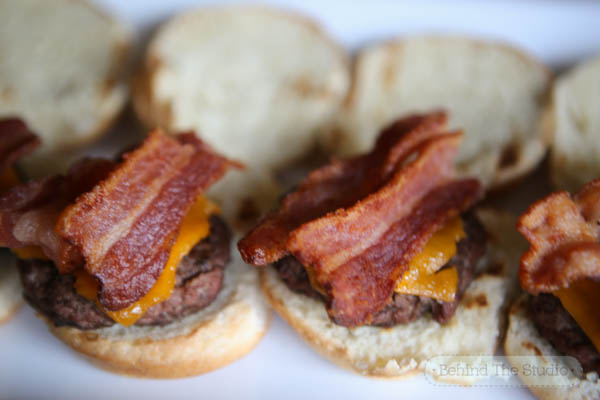 and lastly, my favorite – grandma's coffee cake for dessert!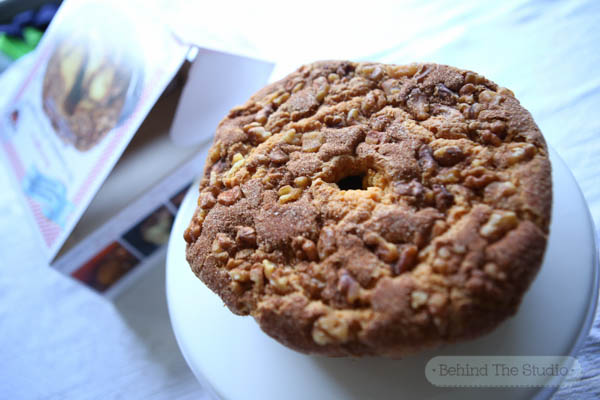 What are some of your traditional family recipes?