This post brought to you by Bed Bath & Beyond. All opinions are 100% mine.
Now that Thanksgiving has officially come and gone, it's time to start gearing up for the Christmas season and breaking out all those yummy Holiday Recipes. It's always an exciting time of year for our family because we almost always have house guests to accommodate or travel somewhere to be with family. This year, it will be both!
I'm beyond excited that I will be hosting part of Christmas this year for my entire clan! I always do what I can to stock up on the little things that that may get forgotten when trying to accommodate guests, like band-aids & hand towels. This year, I'll be taking advice from Bed Bath & Beyond's Holiday Your Way site to learn a few tricks in Holiday Entertaining & being the hostess with the mostess. It's really informative and and a perfect crash course for anyone that's entertaining this season.
Mostly, I'm going to be investing in some decoration storage. It seems every year, I add to my Christmas collection of ornaments, and some of those collectable ones can become pretty valuable. It's really important to me to keep them safe and protected when they are tucked away the rest of the year. There's plenty of different shapes and sizes to choose, but the following 5 were my favorites, and I'm pretty sure I'll be getting some of it to pack away my Christmas gear when January shows up.
Last week, I instagrammed a pic of my Christmas decorating… See my hideous christmas tree box that's held together with box tape?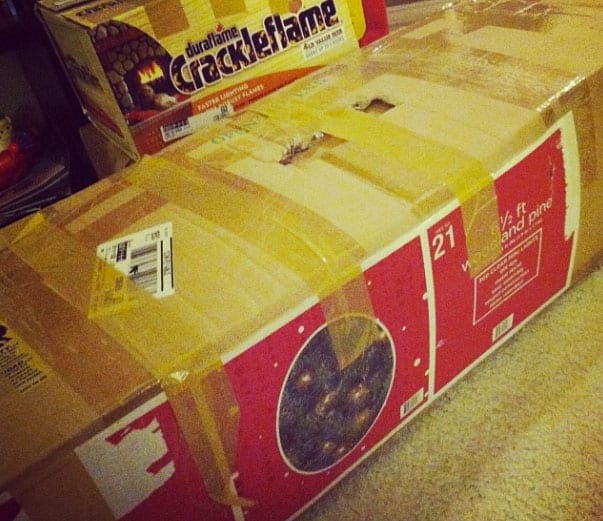 Uhmm, yeah… I think some help is definitely in order!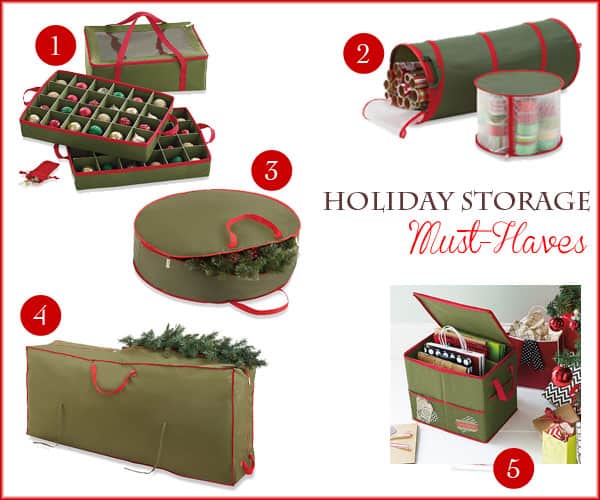 1 – 2-Tier Ornament Bag – $19.99
2 - Real Simple Pop-up Gift Wrap & Ribbon Organizer – $14.99
3 - Real Simple Holiday Wreath Storage Bag – $12.99
4 - Real Simple Holiday Deluxe Tree Storage Bag with Wheels – $29.99
5 – Gift Bag Organizer – $14.99
I'm particularly in love with #5… Now I have a place to put all those bags I "save" when we aquire gifts around here.
What are your holiday plans this season? Will you be a host or a visitor? Visit the Holiday Your Way site to gather some great ideas to help you be a fab hostess!