This post is intended for an audience of adults age 18 and older.
This shop has been compensated by Collective Bias, Inc. and its advertiser. All opinions are mine alone. #CueTheNewYear #CueVapor #SatisfactionAtLast #CollectiveBias
If you have someone in your life that vapes and they're looking to try something different, look no further than the Cue™ vaping system. It's small, sleek and fits perfectly incognito in the palm of your hand. You snap in your favorite cartridge and bam – ready to enjoy with no fuss, satisfaction at last. That's one of the big things we're trying on this 2018 – Organized and simplified are the keywords around here.
Since we only got the kids Christmas presents this year, I decided to surprise the hubby with a new Cue vaping system and 3 additional flavor cartridges since that's his thing. You can also sign up for their subscription program and save 15% on cartridges! There's usually so many parts and pieces associated with vaping that it's essentially become a hobby just to maintain your vaping device. So in the interest of simplifying our life I ordered a new Cue Vapor System.
I loved the easy to navigate website that boasts over 13 different flavor cartridges as well as the Cue Vapor System itself. Within 2 days of ordering, I had my discreetly wrapped cardboard box shipped right to my door with my new vaping goodies inside.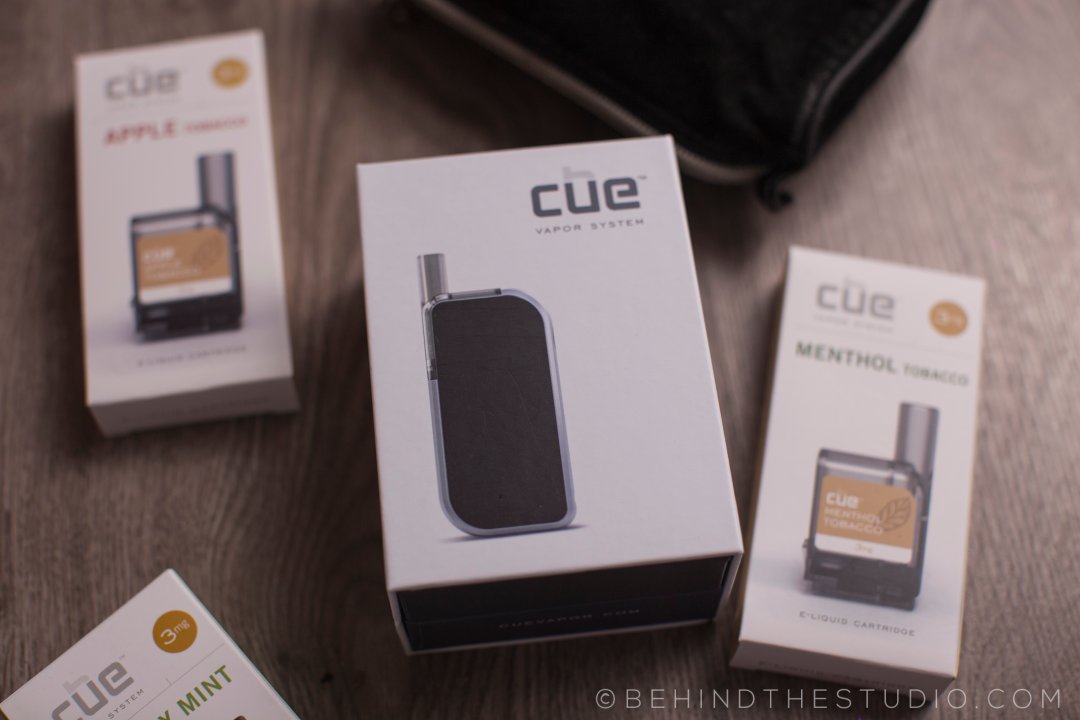 The Cue Vapor System, an extremely easy-to-use device for vaping that is almost ready to be used after taking it from its box. You just need to first give it a charge then when it's ready insert the cartridge into the device (you get one in the box) and start vaping. My husband and I were surprised at how easy that went. He really enjoyed the fact that he doesn't need to check his pockets for a lighter, as the vaping device was already ready to be used, as long as it was charged. And charging is not complicated or time-consuming.
Get started vaping with your Cue in 3 easy steps!!
Step 1 – Charge the Cue device with your USB cable till it's white instead of green letting you know it's fully charged.
This was not his first ever vaping system and he loves the fact that it's simple and doesn't require the need for a toolbox to be carried around just to keep it working. The last system he had was high maintenance and always required cleaning or needed rebuilding to make it work correctly. He's thrilled to move away from all that nonsense!
That's one of the biggest new year's goals we both have in common this year – we're going to crush it by being more organized and simplified about all aspects of life. I firmly believe that being more simplified will have a direct result on overall stress. I'm curious to know how well it works out!
Step 2 – Pop in the cartridge in the top of your charged device
I love variety and I got 3 flavors that I thought he would like best. According to him, they are all tasty but menthol is his favorite.
Everything fits seamlessly into this small black carry case (shhhh – it's a old cosmetic bag, but I'm not telling him!) to hold it all together. From the charging cable, spare cartridges and the Vaping system, it's all in one place to keep it simple. I love how sleek it looks in your hand too! The Cue is designed to be simple, high-performing and encompasses a patented device and a pre-filled, disposable cartridge. That's all you need for the simplest premium vapor experience!
Step 4 – Enjoy and keep it all together in a small cosmetic case! Ready to take on 2018 with a more simplified approach!
What's your big new years goals? I'd love to hear them!
Find a location that sells Cue
NOT FOR SALE TO MINORS. California Proposition Warning statement: "WARNING: This product can expose you to chemicals including nicotine, which is known to the State of California to cause birth defects or other reproductive harm. For more information, go towww.P65.com. WARNING: This product contains nicotine. Nicotine is an addictive chemical. Cue™, the Cue Logo and Vaping. Made Simple.™ are trademarks of Digirettes, Inc.
Comments
comments